Contributing Properties
Hartley's Photo Studio (504 Main Street)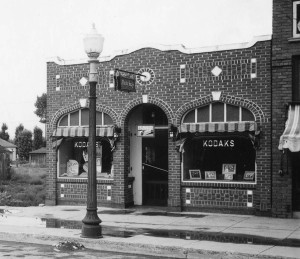 Minnesota-born Otho Hartley returned home from World War I and attended photography school in Illinois. He married in 1921 and the newlyweds moved to Deer Lodge to establish a photo shop. Hartley was the photographer and his wife Vera served as darkroom technician. Their business did well, and in 1927 the Hartleys constructed this commercial brick building as their studio. The Hartleys wanted their business to stand out, so they chose Mission style elements that are unique in Deer Lodge. A product of California, the Mission style gained momentum between 1890 and 1920, but by the time the Hartleys built their studio, its popularity had waned. Since the style was already out of the limelight, no other Mission style buildings appeared in Deer Lodge; the studio is one of Main Street's most distinctive elements. A graceful cement-capped parapet, ornamental inlaid brickwork, and arched window and doorway are Mission style characteristics. Otho Hartley retired in 1946, but for more than twenty-five years he and his wife documented their adopted community. Their work remains a valuable record of Deer Lodge's history.
Larabie Bros. Bank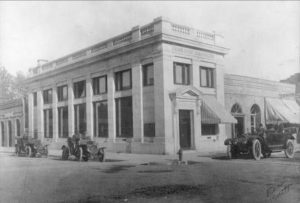 Wide cement pilasters, a gabled pediment above the entrance, large plate-glass windows, and a roofline balustrade distinguish the Larabie Bros. Bank. The building's solid construction, dignified façade, and luxurious interior—finished in marble and mahogany—assert stability, respectability, and permanence. Designed by Seattle architect Michael Beezer, the 1912 structure combined modern materials with neoclassical elements, presenting customers visual assurance that their money was safe. This was no small matter in the days before Federal Deposit Insurance. The reputation of the firm's owners offered additional security. The bank grew from a Virginia City mercantile business, whose principals included S. E. Larabie and W. A. Clark, later better known as one of the Butte copper kings. In 1869, the partners operated from an adobe building on Main and Cottonwood. The firm dissolved in the 1880s, with Larabie continuing to run the Deer Lodge bank from a brick building on this corner. Half of Montana's banks failed in 1923, but through prudent management, Larabie Bros. Bank survived the 1920s agricultural depression. Unable to comply with New Deal banking regulations, it closed in 1933.
Masonic Temple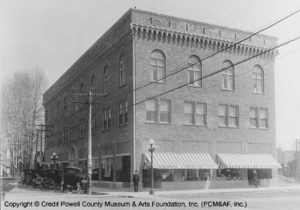 The Ancient Free and Accepted Masons offered its members support, camaraderie, connections, and community. To the geographically mobile men of the Montana frontier, nothing was more valuable. In 1870, Deer Lodge became home to the fourteenth Masonic lodge chartered in the territory, and on February 22, 1870, some fifty Masons came together to dedicate its new hall. Lauded by the Deer Lodge newspaper as "the second best building on the west side of Montana," the two-story frame structure cost approximately $6,000 to complete. Fifty years later, Masons replaced that early hall with this brick edifice. The three-story business block incorporates Renaissance Revival features, including an ornate cornice and recessed arched brickwork above the third-floor windows. A variety store, barbershop, telephone company, and other offices rented space on this prime downtown corner. To assure privacy during secret Masonic rituals, no windows look into the lodge's third-floor ceremonial rooms. Nearly 175 members attended the first meeting held here on March 16, 1920; weather and bad roads caused the Masons to delay the formal dedication ceremony, to allow "visiting brothers to come in their automobiles."
Mitchell Block (414-416 Main)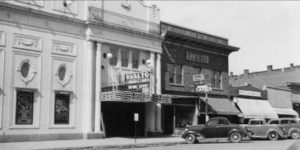 Deer Lodge flourished after its designation in 1908 as a division point for the Chicago, Milwaukee, St. Paul and Pacific Railroad. Housing, dining, and entertainment were then at a premium. The Mitchell Block opened in 1913 to help fill these niches, offering a saloon, grill room, dining rooms, and private card rooms in its two storefronts. Nineteen "large and airy" second-floor sleeping rooms featured hot and cold running water while two shared bathrooms encouraged Saturday-night baths. H. B. Grant drew the plans for this handsome example of the Western Commercial style. The façade features inlaid squares of contrasting decorative brick, dentils and brackets at the cornice line, and cement coping. A central molded wood panel proclaims the date, 1913, and the name "Mitchell." Dr. Armistead H. Mitchell was a civic leader in the Deer Lodge community and co-founder of what became the state hospital at nearby Warm Springs. Dr. Mitchell died in 1898; his estate financed the Mitchell Block. By 1920, Kate McGillis, who later owned the building, lived upstairs with her two young sons and ran the lodging house.
National Bank Building (500 Main)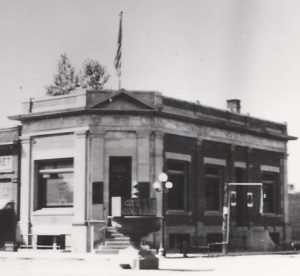 The December 1910 issue of Moody's Magazine: The International Investors' Monthly predicted a strong future for Deer Lodge's new U.S. National Bank. The community only had one other bank, and the local economic forecast was bright, especially since the Milwaukee Railroad had recently situated its repair shops in Deer Lodge. With $50,000 in capital and a brand new building, the bank confidently opened for business on December 7, 1910, offering "a complimentary remembrance to … lady callers." "A first class barber shop with modern bath rooms" occupied the daylight basement, while the bank took up the first floor. Butte architect Herman Kemna designed the brick and concrete building, which was constructed at a cost of approximately $12,000 and featured Greek Revival elements. Massive pilasters and a gabled pediment accent the cutaway corner entrance. A dropped wooden cornice wraps around the roofline on two sides. Asserting stability and permanence, the solid construction and dignified façade assured customers that their money was safe from both theft and bank failure—a tenuous assumption in the days before federal deposit insurance.
Safeway (505 Main)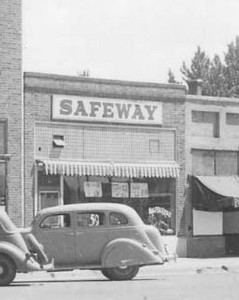 Before 1910, grocery store customers typically purchased food on credit. They relied on clerks to fill their orders and delivery boys to carry their packages home. By 1915, "groceterias" began experimenting with a new model that offered lower prices and wider selection to customers willing to serve themselves, pay cash, and forgo home delivery. Among the new stores was Safeway, whose name promoted the idea that paying cash was the "safe way to shop" because it kept families from going into debt. Safeway expanded rapidly, merging with several other chains in the 1920s. These included O. P. Skaggs Food Stores, which had introduced its "efficient service system" and "cash and carry" policy to Deer Lodge by 1928. Known variously as Skaggs, Skaggs-Safeway, and finally just Safeway, the chain served customers from this brick storefront into the 1940s. The long narrow building with centered recessed entry included a rear warehouse that reached to the alley. Built between 1912 and 1928, the storefront was remodeled after World War II when owners sought a sleek, modern look, characterized by aluminum framing and minimal ornamentation.
Thompson Photo Shop (300 Main)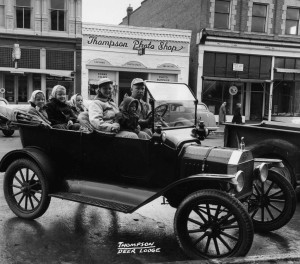 Hiding behind its brick façade is one of the oldest standing buildings in the business district. Before the Northern Pacific arrived in 1883, Deer Lodge builders relied on locally available materials. They constructed walls from wood or rubble stone and roofs from sapling poles and sod or dirt. The owner of this early single-story building modernized it once the railroad made commercially manufactured materials widely available. By 1884, he had covered the dirt roof with shingles and the original stone walls and roof gable with a brick false front (still visible from the alley). More often constructed of wood than of brick, false fronts added style to essentially utilitarian structures. By 1889, the Deer Lodge Drug Company occupied the building, selling "pure drugs, paints, oils, medicines, blank books, school books, cutlery, etc." Later owners expanded with rear additions and, sometime before the mid-1940s, once again updated the façade, installing new display windows. The building housed the post office in 1908, a grocery store between 1912 and 1929, and, after 1944, the Thompson Photo Shop.
US Post Office (314 Main)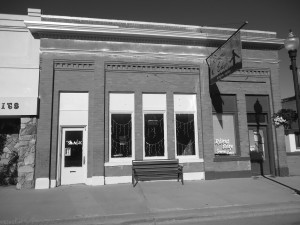 Banker S. E. Larabie financed the construction of this one-story brick post office in 1911. The Silver State pronounced it "the finest post office of any city of its size in Montana." The interior featured finished oak, while protective wire screening from floor to ceiling separated the public from official business. Postmaster Ithel S. Eldred's private office was at the front. Next were the money order, registered mail, and general delivery windows, separated by wire screen partitions. Receptacles for letters and large packages and a second private office were at the back. Three wired glass skylights and tall windows at the front and rear brought in plenty of natural light. An entry on the right provided access to the postmaster's office; an identical door at the left served as the public entrance. Decorative brickwork, dentils, and a wooden cornice at the roofline preserve the original Western commercial style details. A small ancillary brick structure at the rear originally functioned as a bake house with a built-in oven. By the 1920s it served as a furnished room.
In 1911, spurred by the arrival of the Milwaukee Railroad, Leopold Schmidt (founder of the Olympia Brewing Co. and former city legislator) pooled with local businessmen to build a "mammoth new hotel." Designed by H.F. Beinke of St. Louis, the three-story building's two arched open courts on the south side provide each of the 52 guestrooms with a window. Each floor was served by the elevator and each room had hot and cold running water. It was one of the first steel framed structures in Montana. Currently the Hotel is owned by a local non-profit (501c3) organization and they are working diligently to restore it. For more information visit their facebook page, Hotel Deer Lodge.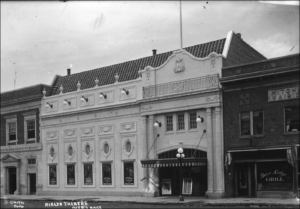 Rialto Theatre (418 Main) "A Palace for Deer Lodge"
For over 80 years the Rialto Theatre, listed on the National Register of Historic Places, has preserved both its original architecture and function. Jens Hansen, Sr. built this movie palace in the Beaux-Arts style in 1921. Butte architects, Arnold and Van House, designed the structure with its red tile roof, majestic entrance flanked by Corinthian columns, and egg and dart molding. The Hansen family ran the theater until 1995 when it was sold to a non-profit community organization that continues to operate it today. A fire of unknown origin severely damaged the structure in November of 2006. The Rialto Community Theater oversaw the extensive reconstruction and preservation ensuring this theater retained its historic character when the doors reopened to the public in May 2012.